Open an account online

Before you begin
To open an account online, you'll need to be at least 18 years old and a resident of Kansas, Oklahoma or Arkansas. Here's what you'll need to complete your application:
Your driver's license number
Your Social Security number
The routing and account number of your funding account
If you are opening a joint account, the other account owner will need to provide the same information listed above.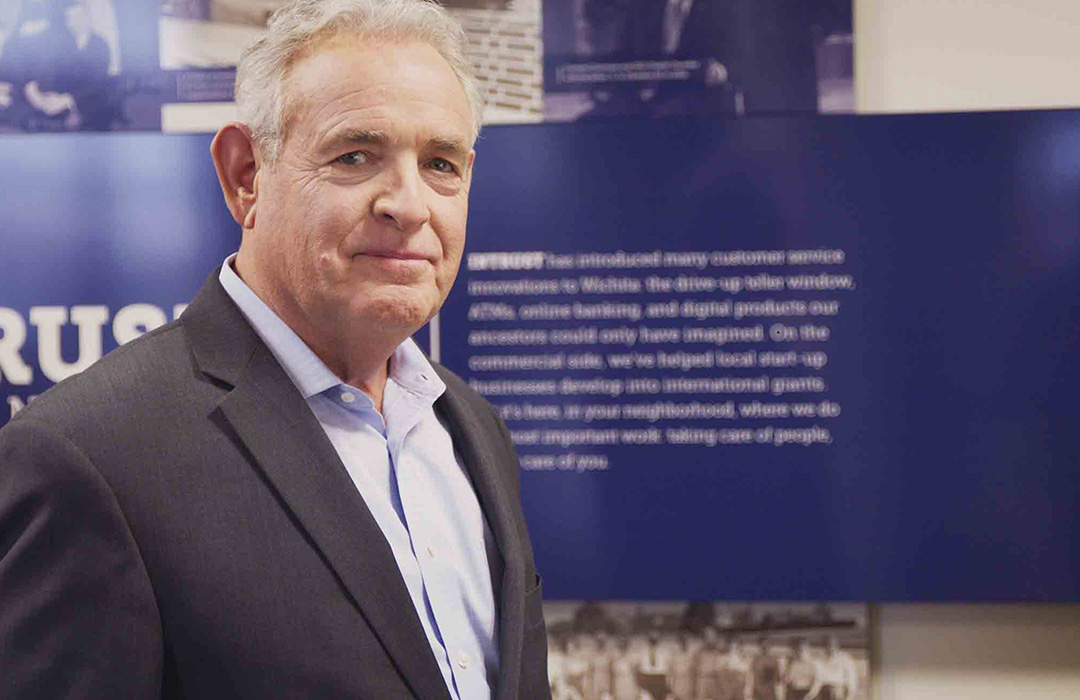 Business Accounts
Drop by and visit us

To open a business account, visit one of our conveniently located banking centers.
Find a Location
Online Account Opening Frequently Asked Questions

How do I know if I am eligible to open an account online and what will I need?
Answer:
Review these requirements before you begin:
You must be 18 years of age and a US Citizen
You must reside in Kansas, Oklahoma or Arkansas
A valid driver's license is required
We'll need your Social Security number
You must not be subject to backup withholding from the IRS
Only individuals may open an account online for a sole owner or joint ownership account. If you are interested in opening a fiduciary account (Trust or Estate) or business account, please visit any INTRUST Bank location.
What happens after I apply for my new account?
Answer:
Depending on the type of account you apply for and the method you choose for funding that account, your new account may be ready to use immediately, or will require additional steps to completely finish the opening process. You will receive very specific instructions during the application.
If you are applying for a checking account, you will automatically receive a debit card for the account within 7 to 10 business days of the account opening.
You will also receive additional communication from INTRUST in the mail and through e-mail to confirm your account opening and funding, and to provide information on other services you can establish for your account.
What are the standard system requirements?
INTRUST's online account opening process has been optimized to run on a fairly standard platform. View our standard system requirements for additional details.
Answer:
Joint account ownership means you will share ownership on this account with one or more individuals. All joint accounts are owned as joint tenants with rights of survivorship and not as tenants in common. Upon the death of one owner, ownership passes to the surviving owners. We may follow the direction of any one owner on the account. Any person named as an owner on the account is liable for all transactions on the account, regardless of whether he or she participated in the transaction.
During the account opening process, each applicant must accept all disclosures and provide all information verifying identification including, Social Security number, driver's license number, state of issuance and issuance date, and employment status. The primary applicant is responsible for any tax ramifications related to the joint account.
Why is my e-mail address needed?
Answer:
We use your e-mail address to communicate with you during the application process. If you are opening a joint account, each owner must have a unique e-mail address. Please note that we will never ask for personal information such as Social Security number, account numbers or personal identification numbers via e-mail. By providing your email address, you agree that we may use it to deliver information about your account and special offers.
How do I fund my new online account?
Answer:
Depending upon the type of account you open online, you can fund with a check, electronic transfer or a transfer from an existing INTRUST account. The available funding options displayed during the account opening process are explained in more detail below.
What is an electronic transfer?
Answer:
An electronic transfer allows you to transfer funds from your account at another financial institution to fund your new INTRUST Bank account. If you are opening a joint account, your funding account must have identical ownership. To set up the electronic transfer, you will need the Institution Name, Routing Number and your Account Number. You will also be prompted to complete an Account Validation as part of the online account opening process. We reserve the right to check with the other bank to ensure that you are a rightful owner of your external account.
Answer:
If you choose to fund by check, send a check payable to yourself to:
INTRUST Bank
ATTN: OAC Processing 3.1
PO Box 1
Wichita, KS 67201
Don't forget to write your new INTRUST Bank account number in the memo line of the check.
Or, visit any INTRUST Bank location to deposit funds into your account.
If you fund your new account by check, we will likely hold the funds until we are able to verify their availability, which could take a maximum of seven business days from the day we receive your check.
Answer:
You can find your note number on loan documentation you have received from INTRUST such as a loan closing document, coupon book or statement. The note number is the five (5) digit number following your eleven (11) digit account number.
What is backup withholding?
Answer:
Funds from interest payments are withheld by the bank and paid directly to the IRS on behalf of the individual taxpayer in payment of a portion of their income tax. Backup withholding is required when the IRS has notified an individual that they are subject to it.
How do I locate the verification code?
Answer:
You should have received a verification code in an e-mail from INTRUST Bank intrust@intrustbank.com with the subject of "Your New INTRUST Bank Account." If you are unable to locate the e-mail and verification code, please contact us.
Where do I find my security panel code?
Answer:
Your security panel code is the three-digit number at the top-right corner of the signature strip on the back of the card. By asking for your security panel code, we are taking an extra precaution to protect you against fraud. Card companies incorporate these numbers for situations where merchants cannot visually verify that you have the card in your possession, such as in online account opening.
Where do I find my last statement balance?
Answer:
Your last statement balance can be found as the ending balance on your last statement. If you are enrolled in Online Banking, you can access your balance there. If it is a new account, and you have not yet received a statement, please contact us.
Answer:
The IRS tax code has specifically defined the term "United States person" as meaning any of the following:
A citizen or resident of the United States
A domestic partnership
A domestic corporation
Any estate other than a foreign estate
Any trust if:

A court within the United States is able to exercise primary supervision over the administration of the trust, and
One or more United States persons have the authority to control all substantial decisions of the trust

Any other person that is not a foreign person
Answer:
The Foreign Account Tax Compliance Act (FATCA) is a United States federal law requiring United States persons (including those living outside the U.S.) with a non-U.S. financial account to have yearly reported themselves and their non-U.S. financial accounts to the Financial Crimes Enforcement Network (FINCEN), and requires all non-US (Foreign) Financial Institutions (FFI's) to search their records for suspected US persons for reporting their assets and identities to the US Treasury.
Why are you asking me about how I expect to use my new account?
Answer:
Bank regulations require that financial institutions collect an expectation of a customer's transactional behavior in order to determine risk levels in terms of money laundering, terrorist finance, and identity theft.
Answer:
Automated Clearing House (ACH) is a network that electronically processes transactions for financial institutions. These transfers typically take a few business days to process and for the money to be available in the receiving account. When you transfer funds from an account at one bank to an account at another bank over the internet or when you pay a bill online you are likely completing an ACH transfer. An ACH transfer is the most common form of electronic money movement.
Answer:
A wire transfer is a form of electronic money movement that moves the money real-time from the sending account to the receiving account at another bank. These types of transfers are less common and often require you to pay a fee and interact directly with a person at the bank either in person or over the phone.