Our Approach
Your values. Your objectives.
Wealth takes many forms, but success is unique to the individual.
A relationship approach
Frequent, meaningful communication and personalized advice are key to designing your ideal financial plan. We collaborate with you to design a solution that meets your needs.
Our fiduciary values
We began offering trust fiduciary services more than 95 years ago and we continue to honor those values today. We put our clients first and protect your best interests with honesty and transparency.
Goals-based investing
Our process begins only after we gain a thorough understanding of your ambitions and expectations. Once we have a complete picture, our only goal is to help you reach yours.
A higher level of service
A high level of personal service defines the INTRUST experience. Meeting your needs is our top priority. You'll see this demonstrated in our frequent communications and prompt attention to your needs.
In addition to your personal Wealth team, INTRUST's entire Wealth division of more than 60 professionals provides innovative solutions to grow and protect your wealth. We provide custom, personal service for your unique financial trajectory.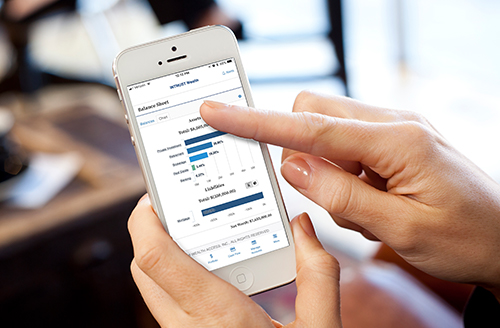 Analytical tools

A complete financial picture
As we build our relationship, we support you with state of the art technological tools. Wealth takes many forms, and these tools help us create a complete understanding of your financial status.
Our secure online and mobile tools give you a complete view of your entire financial life, allowing you to track progress towards your goals and provide you with up-to-date reports on your investments.
Contact Us

Contact a wealth advisor to start a conversation about your goals and how to achieve them.