One of the greatest benefits of using Personal Online and Mobile Banking is the 24/7 access to your accounts that it provides. However, for those individuals who log in online or through the INTRUST Bank app less frequently, there is the chance you could miss some important account information.
Enter alerts.
Alerts bring you the latest news related to activity happening on your accounts, which keeps you informed about your real-time balance, withdrawals, deposits, and bill payments.
Having up-to-date information delivered directly to you can benefit you in multiple ways. For example, a balance alert could help prevent you from overdrawing your account. Additionally, alerts are a great way to help mitigate fraud. If you receive an alert for a transaction you don't recognize, you can take immediate action, which may help prevent the situation from escalating.
Log in to Personal Online Banking or the INTRUST Bank mobile app and follow the steps below to set up account balance and transaction alerts, debit card alerts, and bill pay alerts.
Create account balance and transaction alerts
From the Dashboard or Accounts screen, select the account for which you would like to set up alerts. Next, select Alert preferences. There are two alert types to choose from: balance and transaction.
Create a balance alert to receive a notification when your account balance is over or under an amount you specify.
Create a transaction alert for when a credit (deposit or earning) or debit (withdrawal or fee) occurs over an amount you specify.
Select to receive each alert via SMS text message, email, an in-app message (which will appear in your Messages inbox and trigger a push notification on your phone if you have the INTRUST Bank app installed), or any combination of the three. When done, select Add alert.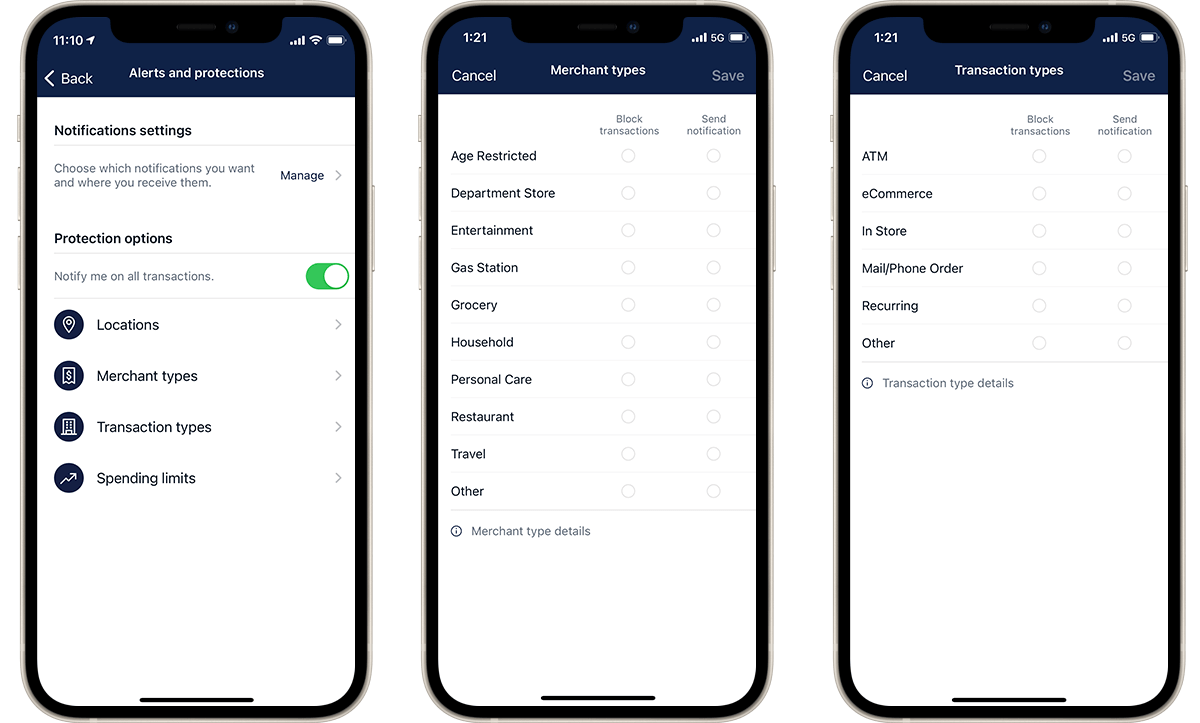 Create debit card alerts
If you have an INTRUST debit card, you have even more alert options at your disposal. Enable alerts for when your card is used internationally, at a specific type of merchant (such as a restaurant or gas station), and for various types of transactions (such as eCommerce or ATM).
To enable card alerts:
From the Dashboard, locate the Card management dashboard card.
Select the card for which you would like to enable alerts.
On the next screen, select Alerts and protections.
Select Locations, Merchant types, or Transaction types to review all the available alert options.
For each alert you would like to enable, check the Send notification
Once finished, select Save.
By default, card alerts are delivered via an in-app message. However, if you prefer, you can change these settings to also enable SMS text and email alerts. From the Alerts and protection screen, select Notification settings. Check the boxes for the additional delivery methods you would like to enable and select Save.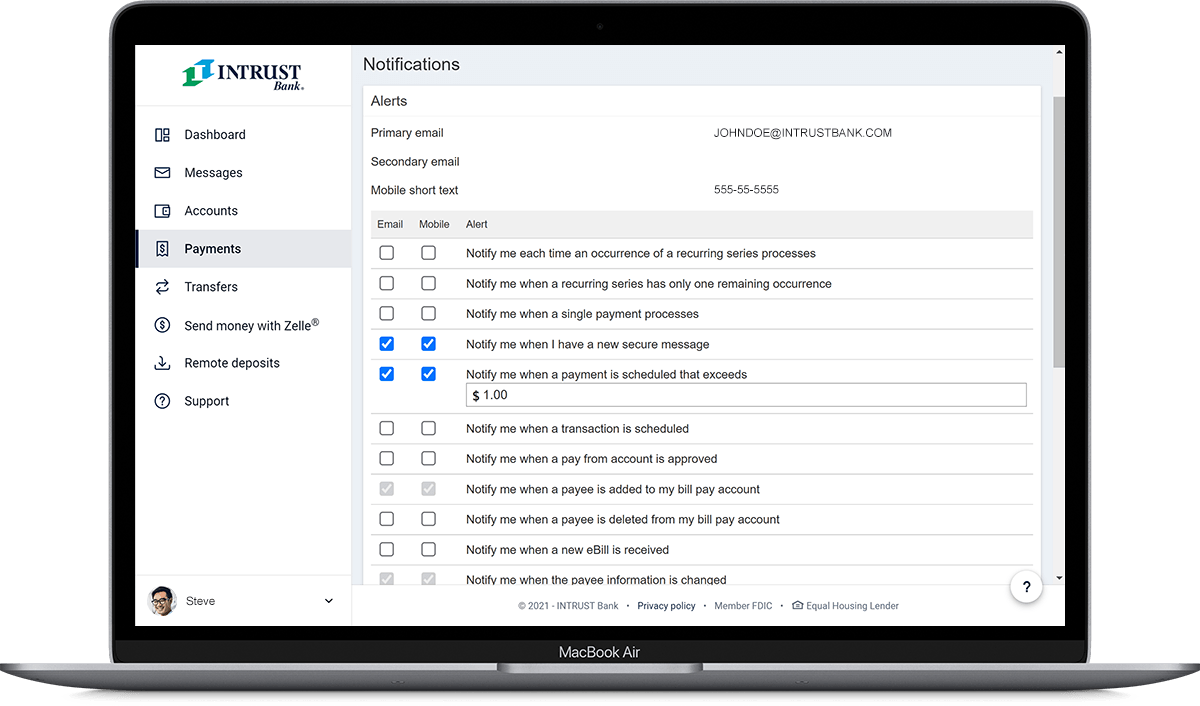 Create bill pay alerts
Looking for even more alerts? You can also set up alerts specific to bill payments. Please note that bill pay alerts must be enabled on a desktop or laptop and cannot be configured through the INTRUST Bank app.
To enable bill pay alerts:
From the menu, select Payments.
Select Manage payments.
From the top menu, select My account.
Under Notifications, select View alerts.
Review the available bill pay alerts and check the box below Email and/or Mobile for each alert you would like to enable.
Once you're done, select Update.
More great features
Alerts are just one way you can stay more connected to your INTRUST accounts. Learn more about additional tools available in online and mobile banking.
Recommended Articles