Do I need a bank account? It's a popular question. Although you aren't required to use a bank, many people find banks valuable because they can be a safer, less complicated, and less expensive way to access and manage money and build savings and credit.
This is true even if you don't have a lot of money. In fact, thinking you don't have enough money to need a bank account is a common misconception. Banks can benefit everyone — no matter who you are or how much money you have.
Accounts that fit your needs
A big benefit of using a bank is that there are several types of bank accounts you can access for free or by paying a low fee. Each account has a specific purpose and is designed to help you manage your money. In this section, we focus on the fundamental account types at INTRUST Bank — checking, spending, and savings — and the value of each. We offer additional accounts, such as Certificates of Deposit and a Money Market account, but if you're new to banking, we recommend becoming familiar with our three fundamental account types first.
Many people use a checking account daily. A checking account is a transaction account, allowing you to make deposits and purchases. At INTRUST, we offer several checking accounts, but our most popular account is Free Checking because there isn't a service charge, and you can open the account with any amount of money.
Debit card
INTRUST checking accounts come with a free Visa® debit card that you can use to make purchases in stores and online. The card is linked to your checking account so that when you use it to purchase items, the money is deducted from your account. A debit card is convenient because it can take the place of cash. However, there will be times when you need cash, and when you do, you can use your debit card to withdraw cash at an automated teller machine (ATM).
Two important things to note:
At INTRUST, your debit card is free — free to get and free to use. Not all finance companies offer this. If you're opening a checking account somewhere besides INTRUST Bank, be sure to ask.
A debit card is different than a credit card. A debit card is money you have, money that's deducted directly from your checking account. A credit card is money you borrow to make purchases, and you'll need to pay that money back plus interest (the fee it costs to borrow the money).
Personal checks
Another component of a checking account is writing paper checks (also called personal checks). Personal checks have decreased in popularity due to debit cards, bill pay, and automatic payments, but they are still a valid payment method for some businesses including utility companies. Some INTRUST checking accounts come with free checks. With INTRUST Free Checking, personal checks are available for an additional fee.
Where's my checking account number? If you have personal checks, you can use them as a convenient way to find your checking account number and the INTRUST routing number.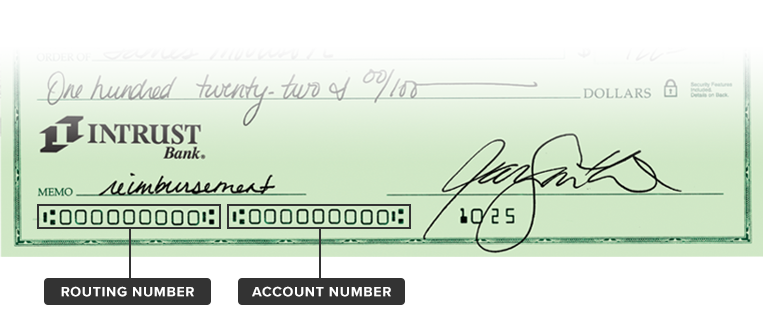 An INTRUST Safeguard Spending account is like a checking account in that it's considered a transaction account. You can easily make deposits and use your free Visa debit card to make purchases. We call it a spending account because it does not allow the use of personal checks as a payment option.
A spending account is a valuable option if you do not want the ability to overdraw your account. An overdraft fee is the cost typically charged if you accidentally spend more money than you have in your account. With a Safeguard Spending account, in most cases, your card won't allow you to make a purchase if don't have enough money in your account.
Our INTRUST Safeguard Spending account is Bank On certified as affordable and safe. Here's why that matters.
Having a checking or spending account and a savings account can help you increase your financial wellness. That's because a savings account offers you a safe place to store money that you want to set aside for the future.
We offer several types of savings accounts, including a Youth Savings account for kids under 18, but our most popular account is our Regular Savings account. A Regular Savings account is valuable because you can:
Make deposits and watch your balance grow.
Easily transfer money from your INTRUST checking or spending account to your savings account using online and mobile banking.
Access your funds quickly if you need to.
Earn interest on your money (meaning INTRUST pays you for keeping money in the account).
No fees to deposit your money
When you receive a paper check from your employer, you can easily turn that check into money you can spend by cashing the check or depositing it into your account — without any fees. Many people prefer to deposit their paycheck so they don't have to carry a lot of cash.
If you're near a banking center, you can physically take your check into the bank for a teller to assist you. If you prefer the convenience of online and mobile banking, you can deposit your check from your phone. For greatest convenience, you can set up direct deposit for your employer to send the money straight to your account. Learn more about moving money into your account.
Easily manage your money
As you use your debit card, you'll want the ability to track and control your spending. You can do this from your computer or mobile device using our free online and mobile banking tool, which makes banking easier and more convenient. With online and mobile banking, you can do the following and more:
To access online and mobile banking, enroll online or download and enroll from the free INTRUST mobile app, available in the App Store or Google Play.
Get unexpected income quicker
When state and federal governments issue tax returns and other payments, the people who choose to receive their money by direct deposit to their bank account get their funds faster than those who choose to receive a paper check.
Just like direct deposit is one of the fastest ways for you to access the funds from your paycheck, it's also the quickest way to receive income like your tax refund or stimulus payments when combined with electronic tax filing (filing your taxes online). According to the IRS, more than 9 out of 10 of these refunds are issued in 21 days or less.
Access bank statements
A bank statement is a record of the activity on your account. It includes deposits (money that comes into your account) and withdrawals (purchases, payments, or transfers you make and fees you pay). Your bank statement allows you to:
Make sure you recognize the activity on your account.
Track your spending and saving.
Prove your income when you're applying to borrow money.
How to access your INTRUST account statement
There are two ways that INTRUST sends statements: online and by mail. Online statements are called eStatements. You can easily enroll in online and mobile banking for free to view your eStatements. Enroll on our website or by downloading the INTRUST mobile app on your smartphone from the App Store or Google Play.
For a Safeguard Spending account
If you have a Safeguard Spending account, you will receive eStatements. Log in to online and mobile banking and follow these steps to access your eStatements:
Select your Safeguard Spending account.
Select Documents.
Select an eStatement to view.
For Free Checking, Advantage Checking, Elite Checking, and all savings accounts
If you have any of these account types, we'll automatically send your statements by mail every statement cycle unless you choose to receive eStatements. Once you enroll and log in to online and mobile banking, follow these steps to opt in and access your eStatements:
Select your account.
Select Documents.
Confirm that you want to enroll your account in eStatements. (If you have multiple accounts, you'll need to complete this process for each account.)
Select an eStatement to view.
Protect your money
INTRUST Bank is a member of the Federal Deposit Insurance Corporation (FDIC). The FDIC insures your account up to $250,000, so that in the unlikely event we go out of business, your money will be safely returned to you. It's important to understand that not all finance companies are insured by the FDIC — but all banks are. This is one of the most valuable benefits of using a bank.
---
There are many reasons to have a checking or spending account and a savings account, but most importantly, they're tools that can help you reach your financial goals faster. If you're ready to open an account, we're happy to help. Find an INTRUST Bank near you and stop by today. If you want to learn more about the features of your account or increase your financial knowledge, browse our blog articles.
Recommended Articles