If you've ever lost your debit card, you understand the panic of losing control of your money. With Card Management in INTRUST Personal Online and Mobile Banking, there's no need to worry. You can use your mobile phone as your debit card on/off switch – and more.
Card Management is a free feature within INTRUST Online and Mobile Banking that offers you an additional layer of security by giving you control of your debit card purchases. You can make changes to your debit card settings at any time, and you have access to limit how, where, and when your card can be used, right from your phone. The feature can be used with eligible accounts, such as checking accounts or Health Savings accounts.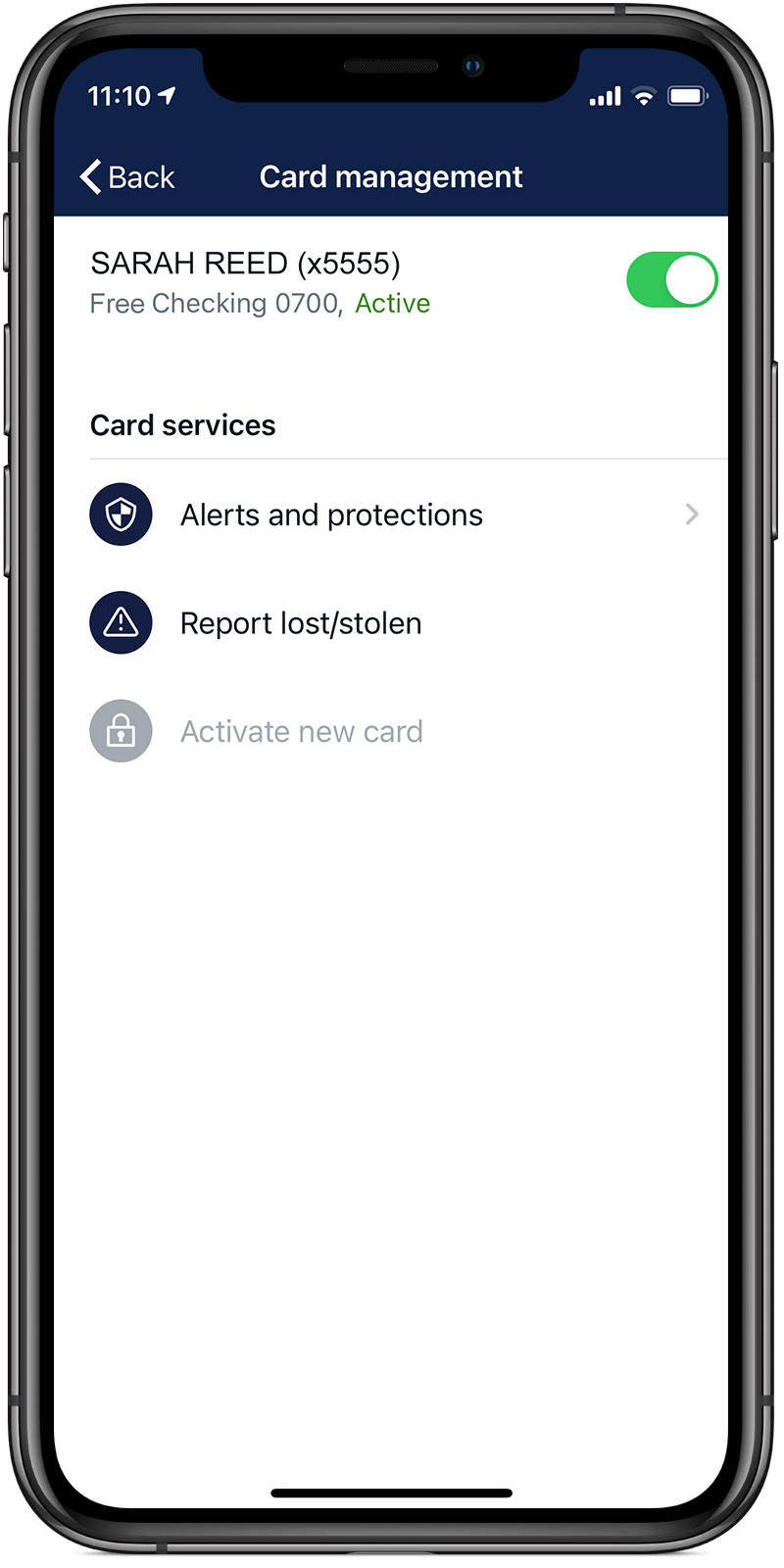 Features include:
Location controls — only allow your card to be used within your selected geographical regions. Any transaction attempted outside of your selected regions will be declined.
Transaction types — limit allowed transaction types, such as ATM transactions.
Merchant types — prevent your card from being used at specific merchant types, such as department stores or restaurants.
Threshold amounts — set a maximum dollar amount allowed for a single transaction on your card.
Stay Protected
Card Management is one more way to protect your account and your money. You can stay vigilant of suspicious activity through alerts, lock your card if you are unsure of a transaction, and prevent unauthorized use of your card. If you misplace your card, you can instantly turn it off, and turn it right back on when you find it. If you have to temporarily turn off your card, it will not lock or close your INTRUST Bank account.
Setting Alerts
With Card Management, you can set immediate push notifications which are received in the app in real-time after a transaction is completed. A notification will appear on your mobile device, where you can securely and quickly receive the information. You can stay in-the-know of what transactions have been charged to your card.
To specify which transaction alerts you receive, select Alerts and Choose Your Alerts. Once you set and save a control feature or alert, it takes effect immediately. Card Management can prove to be beneficial if you are traveling or if you are just wanting to monitor your debit card usage.
Get Started — Access Card Management
To start using Card Management, make sure you are enrolled in INTRUST Personal Online and Mobile Banking. Once logged in, scroll down on the dashboard until you find the Card management section. You can then customize your controls and alerts.
If you need assistance, please contact us at 316-383-1340. Representatives are available to assist you Monday — Friday from 7am to 8pm and Saturday from 8am to 6pm.
Visit our online and mobile banking page to learn more about all of the on-the-go features available through INTRUST Mobile Banking.

Recommended Articles