Whether you've chosen to open a spending, checking, or savings account, the next step is to add money to that account. There are several ways to make a deposit.
Set up direct deposit
Some workplaces allow you to enroll in a payroll process called direct deposit. Instead of giving you a paper paycheck on payday, your workplace will add the money directly to your account so that it's immediately available for you to use.
Follow these steps to set up direct deposit:
Talk to your workplace or any organization that provides you payment and ask if they offer direct deposit.
If they do, be ready to provide the necessary information, including the INTRUST routing number (101100029), your account number, and the account type (checking or savings). You can locate your account number on your account statements or your personal checks. You can also visit a nearby banking center to ask for assistance.
In some situations, your organization may require you to complete a verification form for your account. Visit any INTRUST banking center and we can provide this to you for free.
If you have a checking (or spending) account and a savings account, you might have the option of splitting your direct deposit between those accounts to make saving money easier and more automatic. If you choose to do this, be sure to keep the purpose of each account in mind. Your checking or spending account is your transactional account — meaning it's the account you should use to make daily purchases. Your savings account1 is a place for you to store money so that you can build a nest egg and increase your financial wellness. Since savings accounts are intended for saving, not spending, withdrawals are limited2.
Deposit checks from your smartphone
Instead of going to the bank to deposit your paycheck, if you're an INTRUST customer you can use the INTRUST Bank mobile app to deposit checks right from your smartphone. Mobile check deposit is easy and takes just a few minutes. Start by downloading the free INTRUST Bank mobile app from the App Store or Google Play and check out our article on how to use mobile check deposit.
Make an in-person deposit
If you live or work near an INTRUST banking center or simply prefer going to the bank, you can deposit cash or make a check deposit in person. If you're new to this process, let the teller (the person behind the counter) know. They'll walk you through the steps on how to make a deposit.
Fill out a deposit slip from the check writing stand at the banking center. If you need help with this slip, bring it with you to the teller and they can assist you.
For your security, the teller will ask for your ID or driver's license to verify your identify before accessing your account.
Give the teller your cash or check and the deposit slip. If you're depositing cash, the teller will count the money to verify the amount.
The teller will deposit the money into the account you've selected and give you a transaction receipt.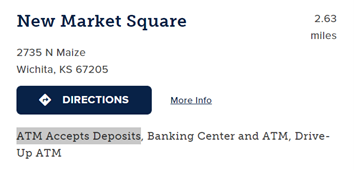 Some INTRUST ATMs in the Wichita area accept cash and check deposits. If you're unable to visit a banking center during business hours, you can make a deposit at several INTRUST Bank ATMs around the Wichita area. To find an ATM, visit intrustbank.com/locations, filter your search by ATMs, and look for description text that says ATM Accepts Deposits.
Transfer money
When you have an INTRUST checking, spending, or savings account, you can make free transfers between those accounts 24/7 using one of the following methods.
Call 800-895-2265 for automated phone banking or customer service.
Use online and mobile banking. With online and mobile banking, you can also transfer money to and from your accounts at other financial institutions. You can enroll in online and mobile banking through our website or by downloading the INTRUST mobile app on your smartphone from the App Store or Google Play.
How to transfer money between INTRUST accounts using online and mobile banking
Log in to online and mobile banking.
Select the Transfer button on the dashboard.
Select a From account and a To (For example, from your checking account to your savings account.)
Type an amount.
Select More Options if you want to set up a recurring transfer (such as repeating weekly, monthly, etc.) or to choose a specific date for the transfer.
Click Submit.
How to transfer money to or from another bank using online and mobile banking
Log in to online and mobile banking.
Select Transfers from the navigation menu.
You will be required to enter your password to add your external account information.
Click Submit.
Before you can make a transfer, you will be required to complete a small dollar verification to ensure you own the external account. This process can take up to a few days.
Deposit unexpected income
One of the many benefits of having a bank is that you can easily deposit unexpected income (such as birthday money, a bonus, tax refund, or a stimulus check) into your account for no additional cost. If you receive this income as a paper check, you can use mobile check deposit or make an in-person deposit at a banking center.
Another option is to have your check automatically deposited into your account. We recommend choosing direct deposit for your tax refund, because the IRS says it can issue your refund faster with this method. Here's how to set it up:
When you're ready to file your taxes, select direct deposit as your refund method through your tax software.
Type in your checking, spending, or savings account number and the INTRUST routing number (101100029).
Alternatively, if you have a tax preparer, tell your preparer that you want your refund deposited directly into your account and provide your account information.
---
Regular Savings and personal Money Market accounts allow you to make nine (9) transfers or withdrawals from your account per monthly3 cycle, including preauthorized, automatic, or telephone transfers.
This account allows you to make nine (9) transfers or withdrawals from your account per monthly3 cycle, including preauthorized, automatic or telephone transfers.
Month or monthly is an approximate four (4) week period or cycle, not necessarily a calendar month.
Recommended Articles