With mobile check deposit, depositing a check is as easy as taking a picture on your mobile phone. If you're leaving the office late in the day or just unable to make it to one of our locations, you can still deposit a check and have money in your account, just like you would if you made a deposit in person.
How can I use mobile check deposit?
All you need to use mobile check deposit is a smartphone, the INTRUST Bank mobile app downloaded to your device and a Personal Checking, Savings or Money Market account for depositing checks.
The app makes it easy and will walk you through the step-by-step process. Once you log in to the app, tap the Deposit quick link on the dashboard or open the menu and select Deposit checks. From there, the app will walk you through everything that you need to do and will prompt you to make sure the check goes into the right account with the correct amount.
You will want to make sure that you have good lighting and take a picture of the front and back of your check. Make sure to sign the back of the check as you normally would and add "Mobile Deposit INTRUST Bank" before making the mobile deposit.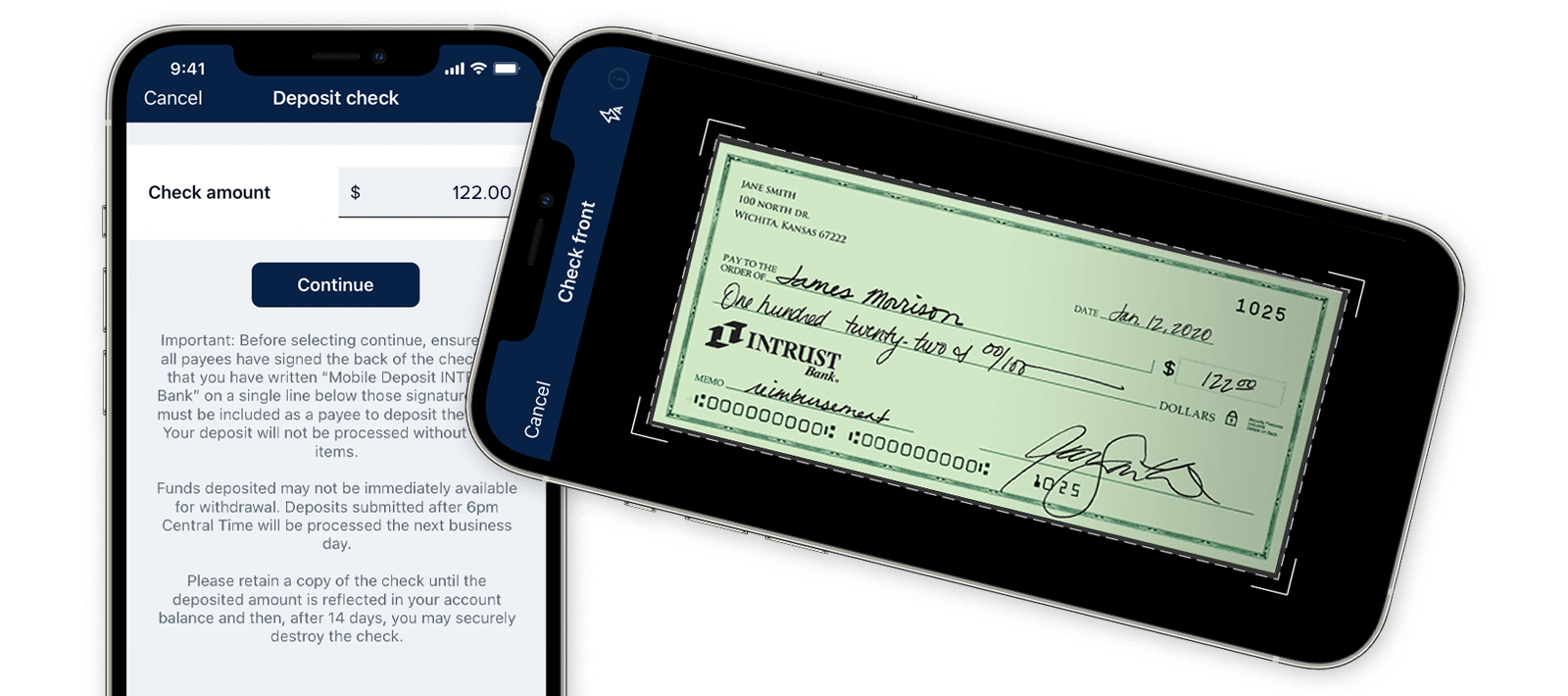 When do I know if my check has been deposited?
You will receive an app notification and an email when your deposit has been received. Even though INTRUST has received your deposit, make sure to keep your check for 14 calendar days. Do not VOID out the check in case the deposit is not approved and needs to be resubmitted.
Once your deposit has been processed, you will receive a second email that will let you know if the check was approved and deposited or declined. If your deposit has been approved, it will show in your balance on the next business day. You can also check on the status of your deposit in Mobile Banking.
How do I know if this is secure?
Your mobile deposit will be completed through our app, which has the same high level of security as our online banking platform. It's just as secure as making a deposit in person at one of our locations.
Try it out today!
Now is a great time to start using mobile check deposit. It will save you time by not having to visit one of our locations and can be done in just a few minutes, whether you're at home or on the go. Visit our Online and Mobile Banking page to learn more about how you can use online and mobile banking or contact us for additional assistance.
Recommended Articles