Your INTRUST Visa® debit card is convenient because it eliminates the need for you to carry cash for in-store purchases, and it allows you to make purchases online. However, there may be times when you need cash. When you do, you can use your debit card to withdraw cash from an automated teller machine (ATM).
You can find ATMs at banks, grocery stores, shopping malls, restaurants, gas stations, entertainment venues, and more.
Insert your debit card into the card slot on the machine or tap your card if your card has the Contactless Symbol and the ATM has contactless card (tap to pay) technology.
Type your PIN.
Follow the on-screen instructions to withdraw cash from your account.
End your transaction and take your receipt.
Use ATMs in the INTRUST partnership network
Although ATMs can be easy to find, it's important to remember that not all ATMs allow you to withdraw cash without a fee. All ATMs are part of a network, but not all ATMs are in your network. Your network is determined by your bank or the type of card you have. When use an ATM that isn't in your network, you'll be charged an ATM fee (also called a surcharge fee or foreign ATM withdrawal cost).
It's easy to identify free ATMs (more on that below). As an INTRUST Bank customer, you have access to an expansive ATM partnership network, giving you the ability to withdraw cash from tens of thousands of ATMs without a fee.
Can I use an INTRUST Bank ATM? When you visit an ATM owned and operated by INTRUST, you won't pay an ATM fee. You can find these ATMs at our banking centers and a variety of local businesses including Wichita-area QuikTrip locations.

What's a surcharge-free ATM? Your INTRUST debit card or ATM card gives you access to ATMs within our partnership network including the 55,000+ ATMs that are part of the Allpoint® network. These ATMs are often referred to as surcharge-free ATMs, meaning you won't pay an ATM fee when you use them. Allpoint ATMs are located at retailers including Target, Costco, CVS, and Walgreens. If you're traveling outside of the U.S., they're available in countries including Mexico, Canada, and the United Kingdom. Look for the Allpoint logo on the ATM.
How to find ATMs in the INTRUST network
To find ATMs within the INTRUST network, download the free INTRUST mobile app from the App Store or Google Play.
Log in to the app.
Tap the menu button (three horizontal lines) in the top-left corner of the app.
Select Support from the menu and then select Locations.
Enable location services on your phone or enter your address to see the ATMs in your area.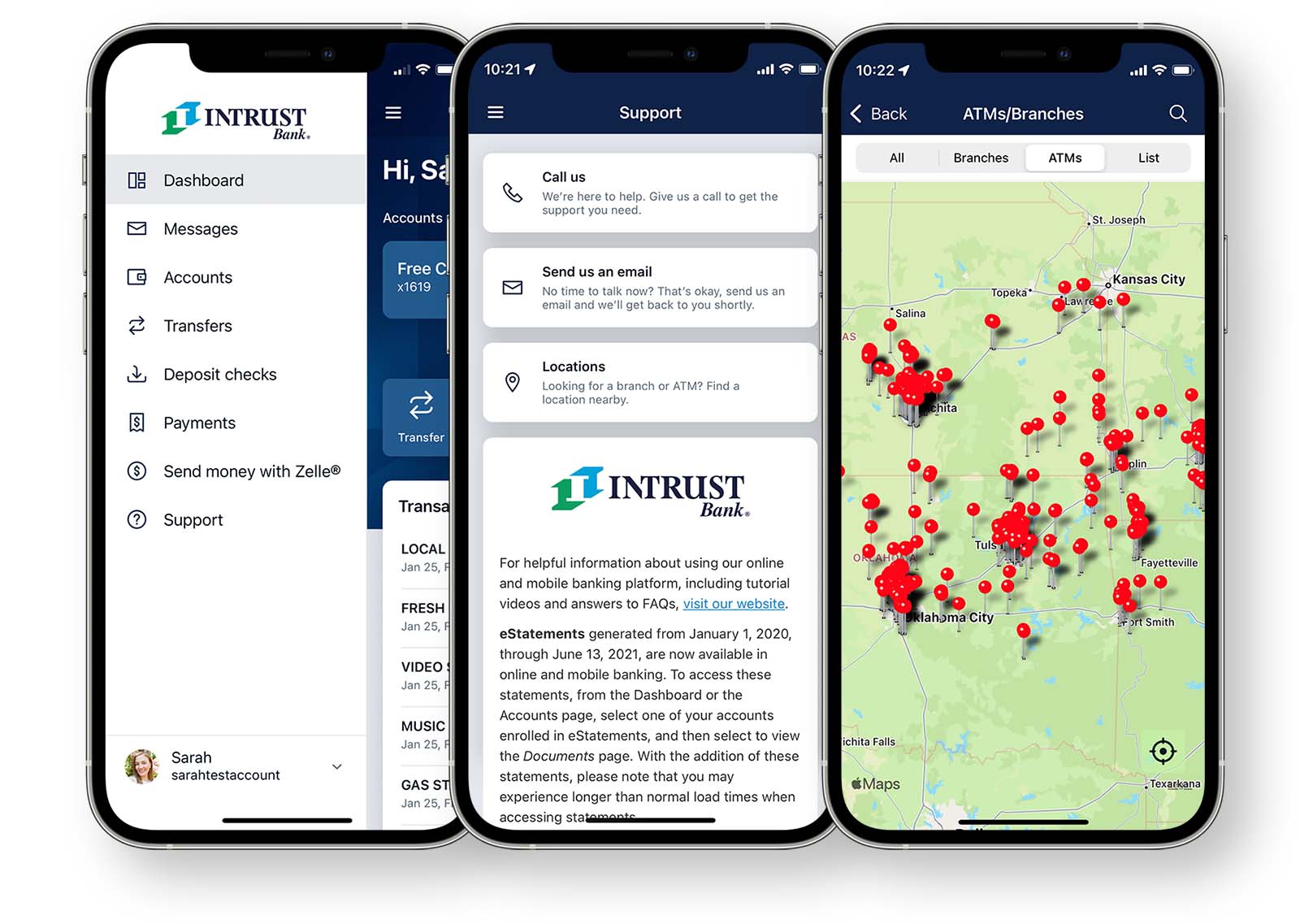 You can use ATMs within the INTRUST network at any time with your qualifying INTRUST card. Eligible card types include all debit and ATM cards tied to personal INTRUST accounts, such as Safeguard Spending and Free Checking, or business accounts like Free Small Business Checking.
Recommended Articles