Smartphones have changed the way we connect. They allow us to quickly call, text, email, participate in social media, and instantly access our bank accounts. And with secure technology, smartphones are also changing the way we spend money, including giving us the ability to make payments using a mobile wallet.
A mobile wallet is a digital wallet that lives on your smart device. It's like your physical wallet, but it can hold digital copies of your debit and credit cards, car insurance, boarding passes, COVID-19 vaccine cards, and more. The mobile wallet payment feature, combined with the digital payment options of Apple Pay®, Samsung Pay, and Google Pay™, allows you to securely pay in stores right from your phone or watch, and online or within apps from your phone. You can tap to pay with any credit or debit card you've added to your mobile wallet.
Is mobile wallet safe?
Yes, a mobile wallet is safe. It's important to note that it is still safe to use your physical debit and credit cards, since anti-fraud technology is always advancing. But mobile wallets provide an added layer of protection by encrypting your full card number, expiration date, and card security code. Encryption is when information is scrambled into a secure format that's unreadable. Unlocking the information (making a purchase on your card) requires you to log in to your device.
Storing your cards in your mobile wallet helps you protect them from being lost or stolen. If your phone is lost or stolen, you can use online banking to turn your debit card off.
Additional benefits of mobile wallet include:
Faster checkout because there's no need to find your wallet, insert your card, wait for it be accepted, and sign the pin pad.
Digitally organized cards so you don't have to spend time finding the card you want to use.
Setting a default card so you can easily use that card to pay.
Not having to touch card readers and pin pads.
Set up your mobile wallet
Many smartphones and watches automatically come with mobile wallet technology already installed. You can access your mobile wallet by tapping the icon on your smartphone or going to your Settings section. Generally, you'll follow these steps:
Open your mobile wallet.
Add your card information.
Confirm/authorize your cards.
Tap to pay with mobile wallet.
The way you add your cards to your mobile wallet will differ depending on the type of device you have.
Make sure you have Samsung Pay on your Samsung phone.
Open Samsung Pay on your phone.
Tap the Menu button (the three horizontal lines) in the top-left corner, and then tap Cards.
Tap the plus sign that says Credit/debit.
Follow the instructions to add your INTRUST Bank Visa® debit or credit card.
Check out the article Add credit or debit cards to Samsung pay on Samsung's website for more information.
Setup instructions differ depending on which version of iOS you have. Visit the Wallet section of the iPhone User Guide for more specific instructions.
Make sure your Apple device supports Apple Pay.
Make sure you have an Apple ID and are signed in to iCloud.
Go to Settings and click Wallet & Apple Pay.
Tap Add Card.
Tap Debit or Credit Card.
Follow the instructions to add and authorize your card.
Make sure you have an Android version that supports Google Pay.
Download Google Play.
Follow the setup instructions and add your card.
Visit the Set up the Google Pay app article on Google for more information.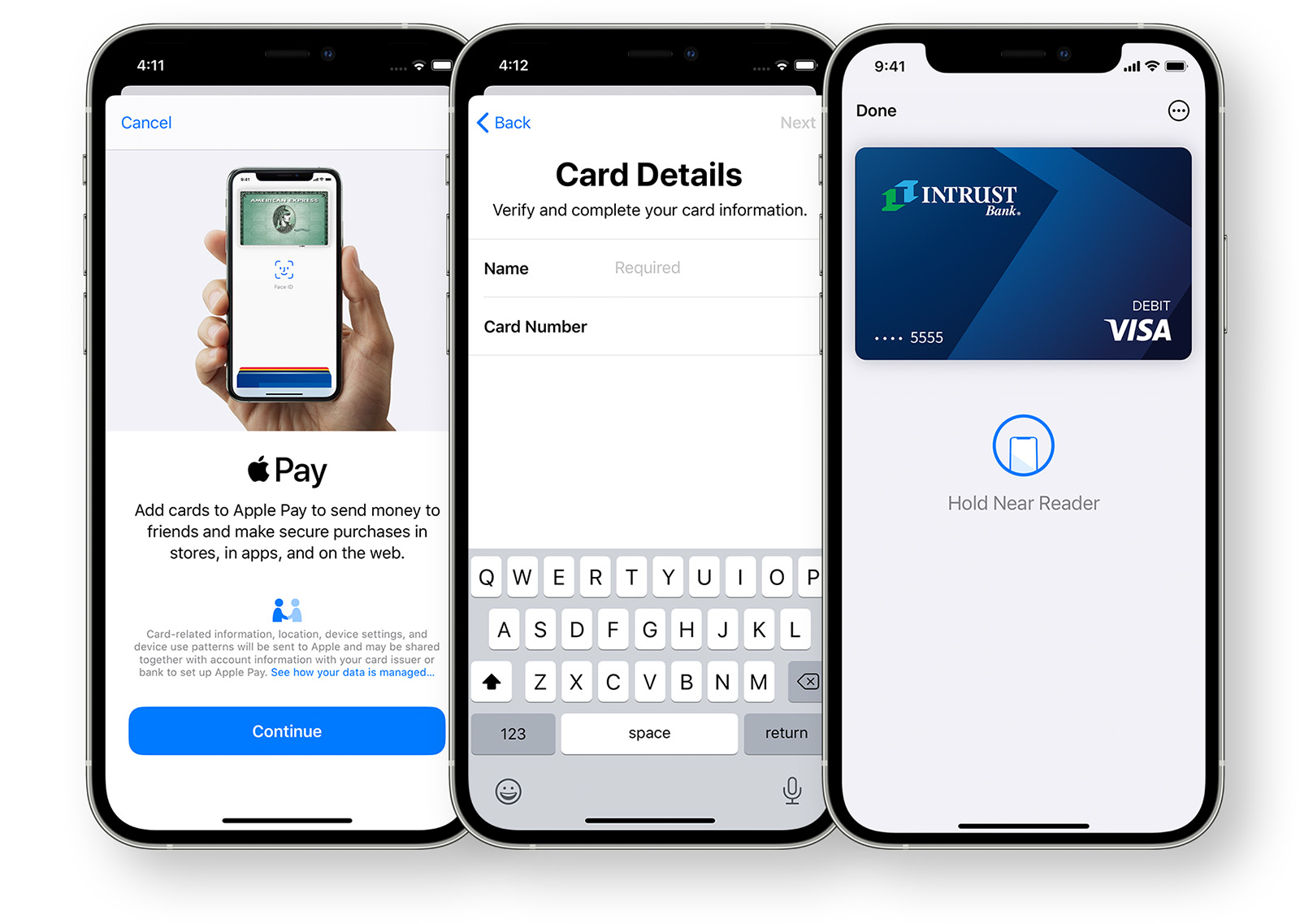 How to pay with mobile wallet
Once you've added your cards to your mobile wallet, you can use your device to tap to pay at retailers that display the Contactless Symbol* and accept your card type (Visa®, Mastercard®, Discover®, etc.). This includes grocery stores, pharmacies, hair salons, and gas pumps. You can also use your mobile wallet to pay online and within apps from your phone.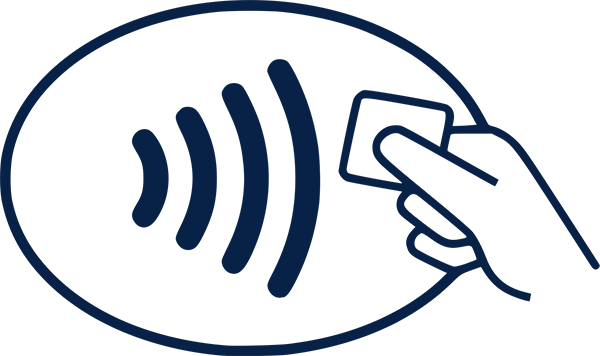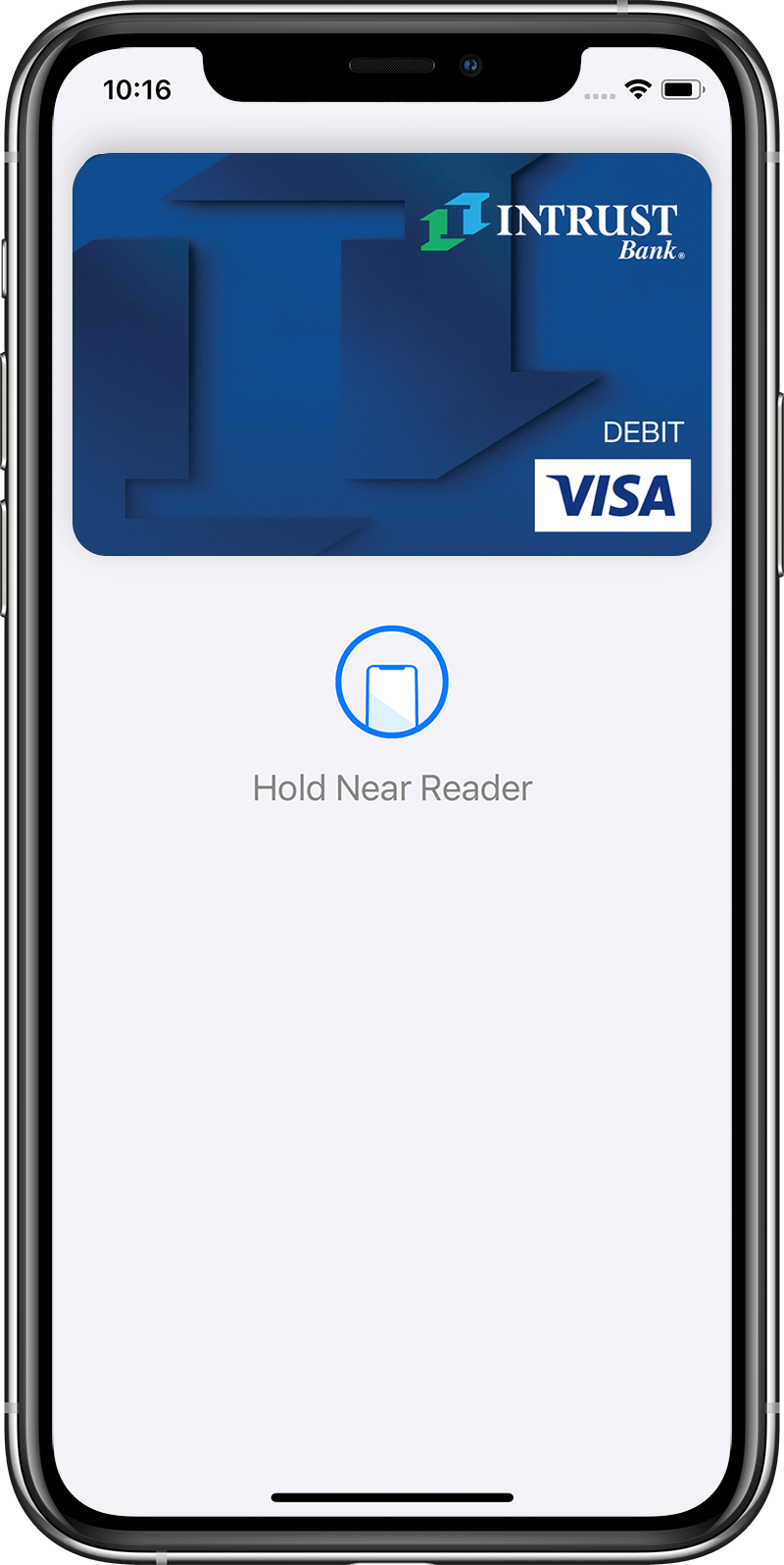 When you hold your device near the card reader, it will automatically prompt your mobile wallet and require your authentication before completing the transaction. Depending on your custom authentication settings for your device, you'll be required to enter your passcode, use your fingerprint, or complete your face recognition. You can only make a payment after you've completed your authentication.
Look for the contactless symbol on or near the card reader at checkout.
Check to see which types of cards the retailer accepts. For example, if you have an INTRUST Visa debit or credit card, you can pay anywhere that accepts Visa cards.
Hold your device near the card reader.
Complete your secure authentication and select your card.
Your phone should tell you when the transaction is complete.
Pay online or within apps
Using your mobile wallet to pay online or within apps can speed up the checkout process because you don't need to enter your card information every time you make a purchase. Look for the Apple Pay, Samsung Pay, or Google Pay buttons at checkout.
If you need help adding your INTRUST Bank debit or credit card to your mobile wallet, call 800-895-2265. Our representatives are available to help you from 7:00 a.m. to 8:00 p.m., Monday to Friday and from 8:00 a.m. to 6:00 p.m. on Saturday.
---
*The Contactless Symbol and Contactless Indicator are trademarks owned by and used with permission of EMVCo, LLC
Recommended Articles