Remote Deposit Capture

Quickly and securely deposit paper checks electronically
Speed up your funds availability and eliminate a trip to the bank to deposit checks with INTRUST Remote Deposit Capture. You or your employees can easily deposit multiple paper checks at any time of day or night, without ever leaving the office.
We provide a dedicated scanner, which is then connected to a computer with internet access. Through a secure connection on our web-based platform, the scanner captures images of checks and transmits the deposits to INTRUST electronically. Retain the original paper checks for at least 45 days, and then they can be destroyed.
Benefits to your business
Save time and money — Eliminates costly employee time or courier trips to the bank. Additionally, the scanner captures the front and back of each check, eliminating the need for photocopying checks. Electronic endorsement for each check is also available.
Improve funds availability — Deposit items the same day you receive them, speeding up collection of your deposits, eliminating mail float and increasing availability.
Increases flexibility — Deposit into multiple business accounts.
Improves accuracy and reduces risk — The system verifies the deposit amount, resulting in fewer bank deposit adjustments. You will receive a confirmation email of the deposit and faster returned-check notification, based on the quicker deposit time.
Consolidate banking relationships — Deposits can be made directly to INTRUST from any of your locations, reducing the need for multiple bank relationships.
Dedicated service and support — INTRUST Treasury Services professionals are available to assist you every step of the way, providing both on-site and over-the-phone assistance.
May be right for your business if
You hold on to checks for over a day or two.
Your business has multiple outlets receiving check payments.
Any of your locations are more than five miles from an INTRUST banking center.
Your deposits primarily consist of U.S. checks and not international items or cash.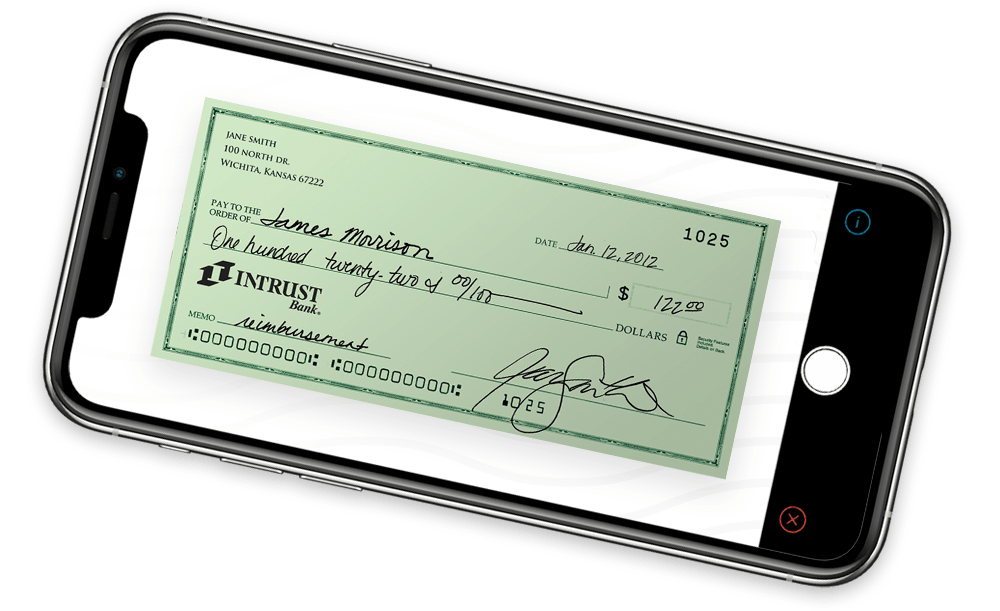 Deposit checks from anywhere
with mobile check deposit.

The INTRUST Bank Business app offers another option for businesses that receive a lower volume of paper checks and want the flexibility of depositing checks from just about anywhere. Use the app and your smartphone's camera to make quick deposits into your INTRUST accounts.
Learn more
Get started

Ready to run your business more efficiently? Contact us today to speak with a Treasury Management specialist and learn more about how INTRUST can help your business.