"You do business with people, not companies."
Those powerful words spoken by our founder, C.Q. Chandler II, helped pave the way for INTRUST Bank in our early years and continue to guide our business today. But they're more than just words. They're a belief system.
In fact, we consider character to be a fundamental part of our culture.
Attracting and retaining people whose character qualities align with our culture contributes to a great workforce, which our employees demonstrate everyday by working together to deliver solutions that improve our customers' financial lives.
Want to see our founder's motto in action? Here are two INTRUST Bank initiatives that make us a better and more people-minded place to work.
Jump on Board Day
When new team members join INTRUST Bank, we want to introduce them to our culture right away in a way that helps them become connected to the organization. That's what Jump on Board Day - a quarterly event for all new employees across the organization - is all about.
New hires spend an entire day absorbing information about our history and operations, as well as networking with peers and business unit directors.
We appreciate the value of committing to a full workday of "not-business-as-usual" activities, especially when it can help new employees truly understand how their role impacts the success of their customers and peers.
Jump on Board Day allows new employees to hear from various departments, setting the tone for their own careers at INTRUST Bank. After digesting success stories from those within the organization, they can see what it takes to flourish here.
An employee who attended the most recent Jump on Board Day said it best:
"Understanding the different departments and our operations is helpful to those of us who are new to the banking industry. Having a dedicated time to talk and meet with leadership and peers was a fantastic way to network and get to know fellow employees on a deeper level."
But it's not only new hires who get to have all the fun.
Explore INTRUST
Explore INTRUST is an internal event designed to help employees connect and network with colleagues from all areas of INTRUST Bank.
In any workplace, it's easy to become so focused on our own disciplines that we lose sight of what's happening organization-wide. Explore INTRUST helps employees see how everyone's roles support the bigger picture.
Representatives from each INTRUST Bank business unit manage booths and talk to attendees about their department's goals and structure. Our most recent Explore INTRUST event included representatives from 17 areas of the bank, creating the perfect setting for employees to expand their organizational knowledge.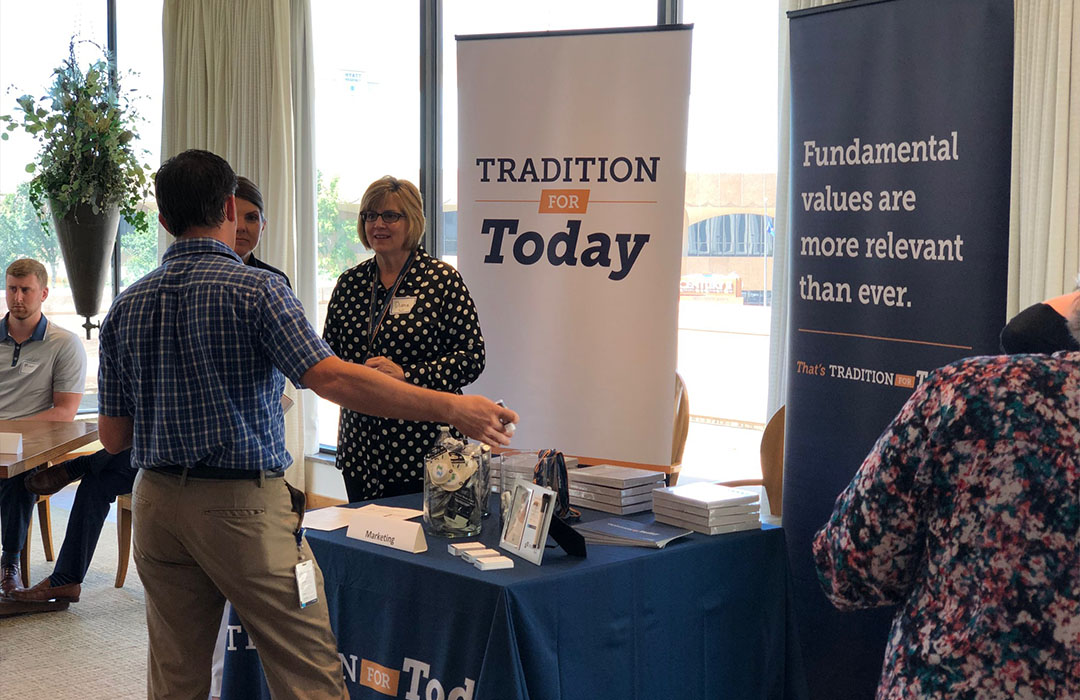 The intentional networking opportunity also helps strengthen our everyday relationships. For example, you might regularly exchange emails with an employee in another office but have not had the chance to meet in person. Explore INTRUST allows you to put a face to a name and further develop that connection.
Explore INTRUST promotes improvement
In a way, Explore INTRUST also acts as a professional development summit. There are a lot of options for career growth within the organization and Explore INTRUST helps raise awareness of opportunities.
The event has been crucial in helping employees grow their career internally, according to Mark Dennett, managing director, risk management, who went on to say:
"The majority of the people we hire are internal applicants, and many of those employees had the opportunity to learn more about our department at an Explore INTRUST event. Explore INTRUST has proven to be a valuable approach to finding the right fit for our roles."
Explore INTRUST has led to many development opportunities for employees to pursue from mentorships to shadowing, and even job transitions within the organization.
The future looks bright
Jump on Board Day and Explore INTRUST are just two of the many ways to get involved and expand your knowledge and skills as an INTRUST Bank employee.
It's encouraging to watch INTRUST Bank employees come together to build meaningful connections, and we look forward to seeing how participating employees use their experience to grow in their careers.
Interested in joining our team?
Read more about how INTRUST Bank invests in employees and take a look at our career opportunities. We look forward to connecting with you.
Recommended Articles