Online Banking

Banking online, on your time
Personal Online Banking provides you with free, secure access to your INTRUST checking, savings and time deposit accounts, IRAs and personal loans.
Manage accounts, payments, transfers, alerts and more, without ever seeing a fee.
Convenient. Secure. Free.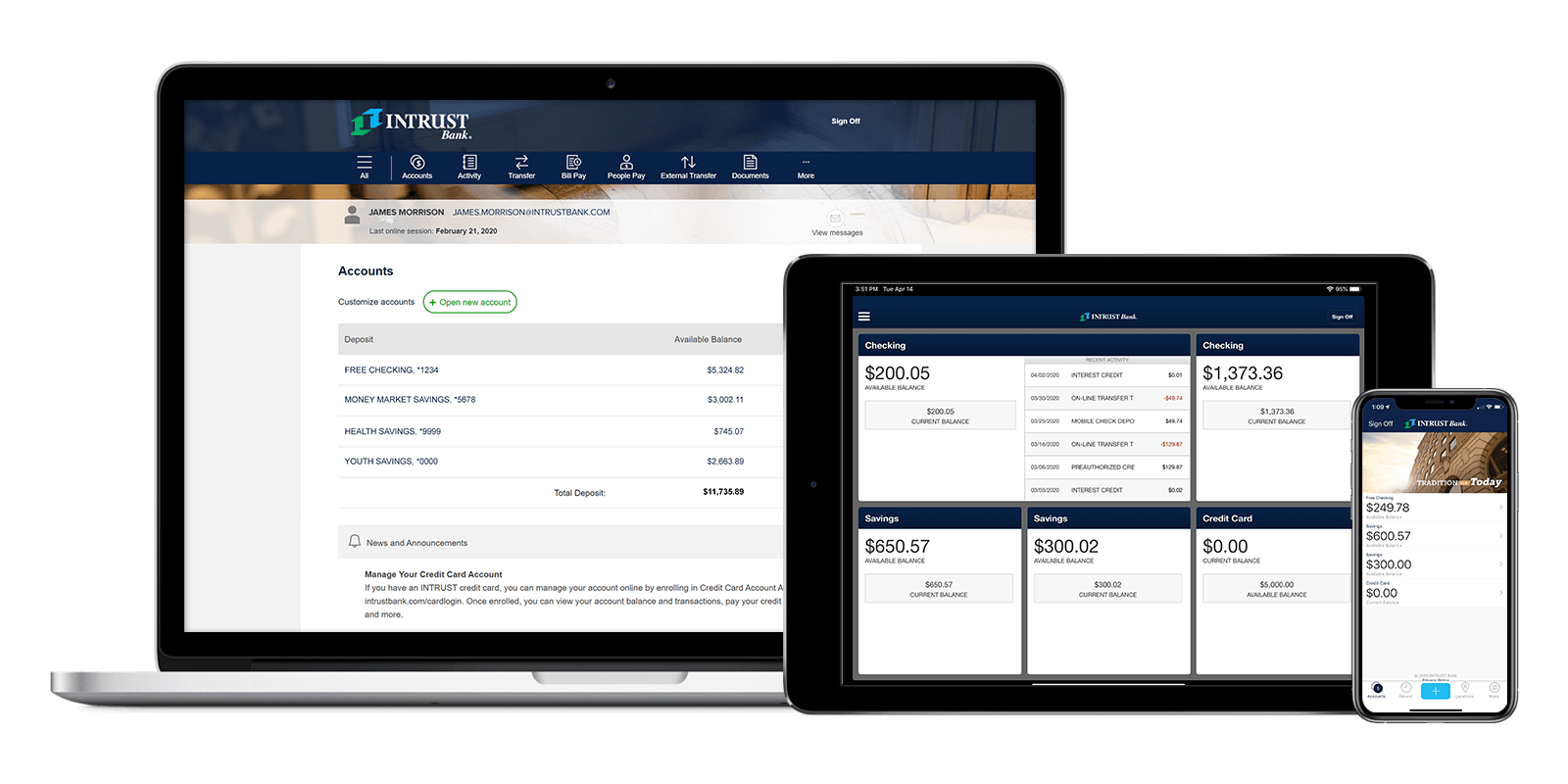 Powerful financial tools available any time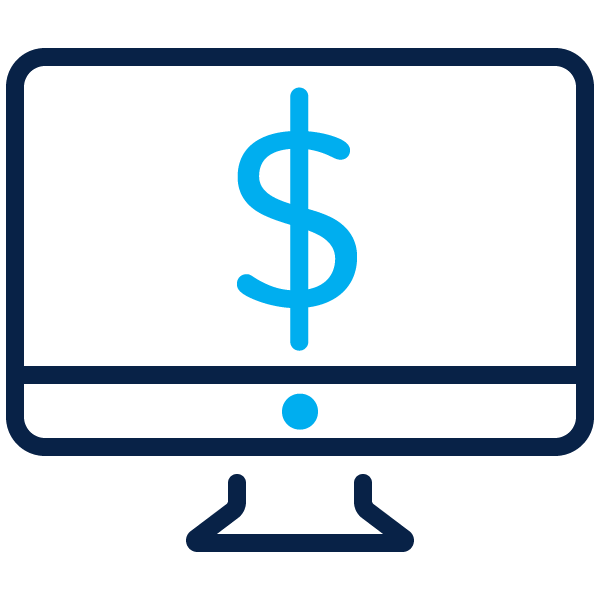 View balances and transactions
Easily view balances and search through activity on your checking, savings, time deposit, IRAs, HSAs, and personal loans.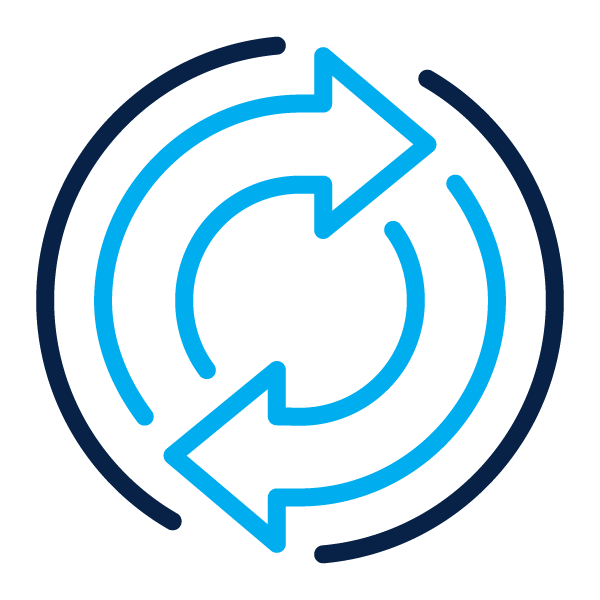 Set up transfers
Move money between your INTRUST accounts or between your INTRUST accounts and accounts at other financial institutions on a one-time or recurring basis.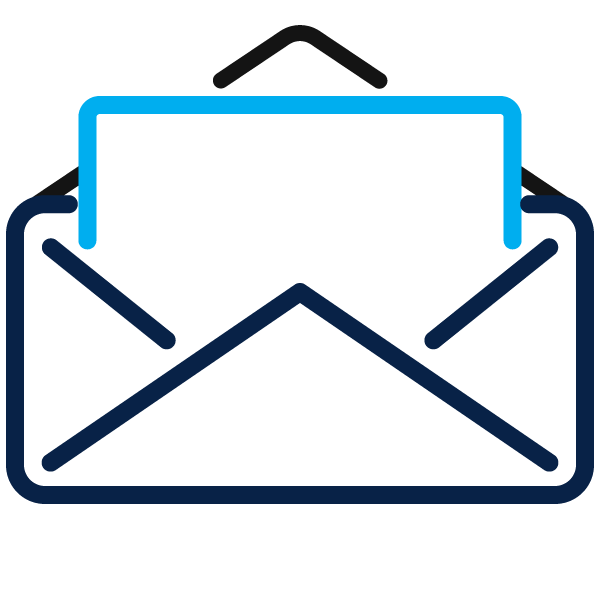 Pay bills
Make a payment to any company or individual in the United States. You can set up one-time or recurring payments. We guarantee that your payment will be sent on time.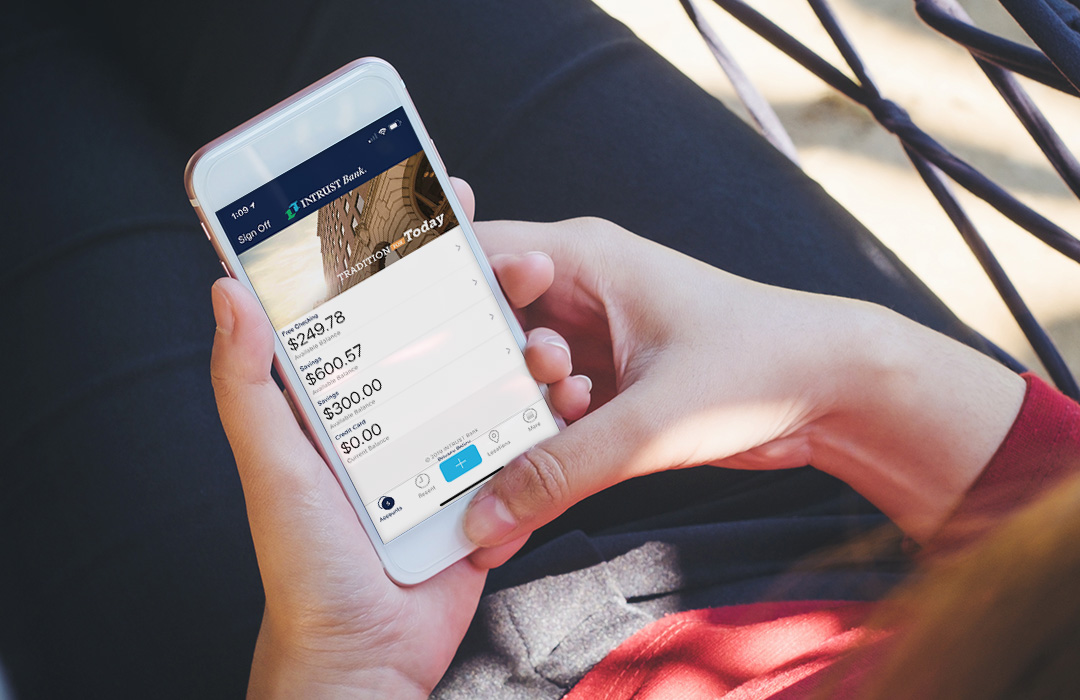 Take your banking mobile
INTRUST Mobile Banking

Download our app for your iPhone or Android device for the easiest way to quickly manage your accounts, make payments, or deposit checks.
Learn More
Frequently Asked Questions

What does INTRUST Personal Online Banking enable me to do?

With INTRUST Personal Online Banking, you can manage your INTRUST accounts online anytime and use the Internet to do virtually anything you can do in person at an INTRUST Banking Center.
Check your balances. View real-time balances for your INTRUST deposit accounts and personal loans 1. Running balances enable you to follow your balances with each transaction.
Monitor account activity. See the details or conduct searches of the transactions that have occurred on your accounts. Sorting and filtering enables you to create flexible views of your transactions and categorize them to track expenses and quickly look up specific items.
Transfer funds. Schedule transfers, including future-dated transfers, between INTRUST accounts at a frequency you select; keep tabs on pending transfers.
Order checks. Review your last check order, then place the same order or select a new style. See how your checks will look before you order.
Stop payments. Place a stop payment on a check that has not cleared your account; review history for each stop check request.
Create alerts. Set up e-mail alerts to notify you when an account balance reaches a designated amount, when a transfer is complete, when a check clears or when a time deposit (CD) matures.
View statements and check images. Download your monthly statements and view check images.
Open accounts. Review the variety of accounts offered, and then open an account by completing the application online.
Communicate with customer service. From within the service, send secure messages to and receive secure messages from INTRUST Internet Support.
Pay your bills. Add Online Bill Pay and enjoy even greater convenience. Pay your bills online - at the same time and place that you're already managing your INTRUST accounts.
And more!
Unprocessed ATM and debit card transactions may not be reflected in your balance. You may have issued some checks, have additional purchases or made additional transactions which are not reflected in your balance. A portion of your balance may not be available for immediate withdrawal.
Which accounts can I manage using INTRUST Personal Online Banking?

Online Banking provides you with secure, unlimited online access to your INTRUST checking accounts, savings accounts, time deposits (CDs), IRAs, and personal loans.
To manage your INTRUST credit card issued by Elan Financial Services, go to My Account Access.
May I use INTRUST Personal Online Banking to manage my business accounts?

No. INTRUST offers other online banking services to manage your business accounts. Contact
Treasury Services
for information about these services.
Is there a fee for INTRUST Personal Online Banking?

No. Personal Online Banking is a free service.
I noticed that Online Bill Pay is integrated into INTRUST Personal Online Banking. If I enroll in Online Banking, will I be enrolled automatically for Online Bill Pay as well?

No. Once you are enrolled in Personal Online Banking, you may submit a request to enroll in Online Bill Pay.
I'm ready to enroll. What do I need?

The information you need depends on the type of account you plan to enroll with. Generally, you'll need to gather your most recent INTRUST statement and be prepared to provide your Social Security Number and e-mail address. Your PIN will be requested if you plan to enroll with an ATM/debit card. During enrollment, you'll select a user ID and password. Enroll now.
To manage your INTRUST credit card issued by Elan Financial Services, go to My Account Access.
What are the user ID and password requirements?

Your User ID:
Should not reveal personal information
Must contain between 8 and 32 characters
Must contain at least 2 alpha and 2 numeric characters
May not contain special characters
Your Password:
Cannot be the same as your User ID
Must contain between 8 and 32 characters
Must contain at least 1 alpha and 1 numeric character
Is case sensitive
How long after I complete INTRUST Personal Online Banking enrollment will it take before I can access my accounts?

You will have the ability to view account summary information immediately following a successful enrollment, as well as have the ability to transfer funds between accounts as long as the account falls within the relationship guidelines. A successful enrollment occurs if the information you enter during enrollment matches your information we have on file. If an enrollment is unsuccessful, an INTRUST Internet Specialist will contact you by e-mail within one business day.
Where do I go to login to INTRUST Personal Online Banking?

Once you've enrolled in Online Banking and you're ready to begin accessing your accounts online, visit www.intrustbank.com and select the Log In button at the top right of the page to reveal the login area. Under Personal Online Banking, enter your User ID and click the Log In button.
Who do I contact with questions about INTRUST Personal Online Banking?

If you can't locate the answer to your question, our friendly and knowledgeable INTRUST Online Services Support Team are eager to assist you Monday through Friday 7 a.m. to 8 p.m. and Saturday 8 a.m. to 6 p.m.
Call Online Services Support
, or use the Message Center from within Online Banking to send secure e-mails to Internet Specialists.